Jobs
---

Become A Member Of The Team. Mavis Discount Tire's Retail Team is the face of the company. By delivering the right tires and products and providing trusted automotive service, the members of our Retail Teamwork in dynamic, state-of-the-art environments to build lasting relationships with our growing customer base. Whether you are just beginning your career in the automotive repair and tires sales industry, or you are looking to take your experience to the next level, you can achieve your goals with Mavis. With more than 50 years of growth and a longstanding tradition of growing and promoting talent from within, we offer opportunity.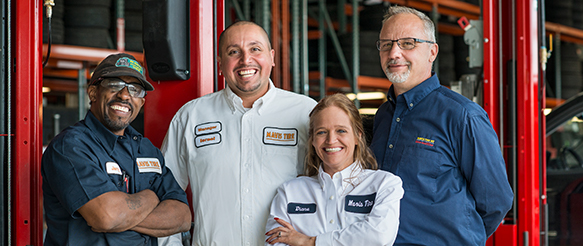 Take The Lead
· Store Managers · Assistant Managers · Service Managers
By leading Mavis's Retail Team, our Store Managers, Assistant Store Managers and Service Managers ensure the timely and safe completion of high-quality vehicle repair and maintenance. With our revolutionary digital dashboard, you can track your personal success and watch your weekly earnings grow as you lead by example to reinforce Mavis's position as the premier tire and auto service retailer. Apply now and share our commitment to exceeding customers' expectations and upholding Mavis's complete customer satisfaction guarantee.
Pave The Way
· Mechanics · Alignment Technicians · Tire Technicians
With the opening of more retail locations just around the corner, we are looking for Mechanics, Alignment Technicians and Tire Technicians who deliver the highest quality tire and automotive repair services. From dismounting, mounting, rotating and balancing tires to major automotive repairs, we rely on our Retail Team to ensure serviced vehicles travel straight and true. As a member of our Retail Team, you will be rewarded for your individual excellence through our generous weekly incentive programs. Apply now and join a winning team!
To Your Benefit
At Mavis, we understand that our people drive our success. We provide our Retail Team members with competitive compensation, including weekly incentive programs, a good working environment and an excellent combination of additional benefits like health and dental insurance, a 401(k) retirement savings plan with employer match, paid vacations, paid personal and sick time, on-the-job training, professional development and opportunities for career growth.
---
Consistent with our commitment to the principle of equal employment opportunity for all individuals, we enforce a zero-tolerance policy on discrimination at Mavis. Employment decisions are made without regard to an applicant's or employee's actual or perceived race, color, religion, creed, sex, pregnancy, sexual orientation, national origin, age, ancestry, ethnicity, disability, citizenship, alienage, marital status, domestic or civil union partnership status, familial status, caregiver status, military or veteran status, transgender status, gender identity or expression, genetic information, predisposing genetic characteristic, status as a victim of domestic violence, stalking and sex offenses, or any other status protected by applicable federal, state or local laws, regulations or ordinances.
We will endeavor to make a reasonable accommodation/modification to the known physical or mental limitations of a qualified applicant with a disability to assist in the hiring process, unless the accommodation would impose an undue hardship on the operations of our business, in accordance with applicable federal, state and local laws. If you believe you require such assistance to complete this Application for Employment or to participate in the interview process, please contact Mirlusca Kiely at (914) 215-6759 or mkiely@mavistire.com. In addition, applicants may report any instances of perceived discrimination through HRConnect either by calling toll-free at 1-877-628-4755 or by sending an email to HRConnect@mavistire.com.