Jobs
Hutchinson, KS, USA

16.26-24.39 per hour $16.26 - $24.39 per hour depending on qualifications

Hourly

Full Time
---
Imagine if you were given an opportunity to connect with others who want to keep our community the most livable and safe it can possibly be. If you like to work with your hands, enjoy working outside and construction/repair work, you may be a great addition to our Public Works team. Make a difference with the City of Hutchinson!
The Water Maintenance Worker performs maintenance and repair to the City's potable water distribution infrastructure to ensure safe drinking water and fire protection for the citizens of Hutchinson. This employee should possess a strong mechanical aptitude, effective communication skills, as well as organizational and public relation skills.
THIS IS AN ENTRY-LEVEL POSITION; THEREFORE, WE ARE WILLING TO TRAIN ON THE FOLLOWING SKILLS.
A DAY IN THE LIFE: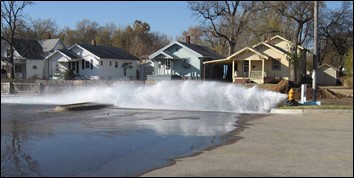 Finds and repairs water main breaks and leaks; ensures that utilities in the work zone are properly located and traffic control hazards are properly mitigated. Operates heavy and other equipment to properly excavate, perform repair work, and restore concrete, asphalt and brick streets and driveway cuts to standards.

Performs on-going preventative maintenance duties including flushing and inspecting fire hydrants, and locates and properly exercising valve stems. Repairs broken or inoperable valves and fire hydrants as needed.

Responds to customer complaints and concerns which may involve low pressure or water quality (cleanliness, taste and odor). Takes reading and water samples to troubleshoot. Cleans and disinfects water mains and services; Tests and replaces water meters and curb stops as needed. Maintains accurate work order records.

Locates water mains and services for construction projects. Adjusts meter pits and valve boxes as needed; paints fire hydrants and sets hydrant backflow carts, and ensures the utility is accurately located.

Assists with installing new City water service valves, hydrants and other infrastructure as needed.

Performs other duties as deemed necessary or assigned.
WHAT YOU'LL NEED TO BE SUCCESSFUL:
EDUCATION: A high school diploma or GED is required.
EXPERIENCE: 1-3 years of similar or related experience is preferred. Employee is expected to have acquired the necessary


information and skills to perform the job reasonably well within 6 months of employment.

CERTIFICATIONS/LICENSES: This employee must possess or be able to obtain a valid Kansas Class B Commercial Driver's License (CDL) with air brake endorsement within 90 days of appointment. A Class I or higher Water Operator certification, and Cross Connection knowledge are preferred. Requires Competent Person for Excavation and Trenching and Confined Space Certification (within 1 year of employment).
RESIDENTIAL REQUIREMENT: Applicants must live within 25 minutes of the City of Hutchinson Public Works facility and be able to report to the facility within 30 minutes for after-hours emergency calls.
BENEFITS:
Health, Dental & Vision Insurance

Flexible Spending Accounts: Medical & Dependent Care

Retirement: KPERS & 457 Retirement Savings Plan

Insured Disability

Life Insurance & Optional Voluntary Life Insurance

Death Benefit

Service Connected Death

Vacation Leave, Sick Leave, Wellness Day, Floating Holidays & City Designated Holidays

Employee Assistance Program
The City of Hutchinson employs over 400 employees that serve our community every day. City employees make Hutchinson a great place to live, work, and play. We take pride in our work and it shows. Come be a part of a workforce that makes a difference! We're always looking for talented, self-motivated individuals to join our team.
City of Hutchinson is an Equal Opportunity Employer that recruits and hires qualified candidates without regard to race, religion, sex, sexual orientation, gender identity, age, national origin, ancestry, citizenship, disability, or veteran status.
Full Job Description